In Memory
Tony Moore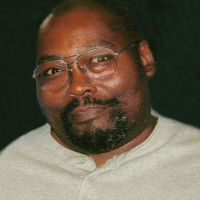 Anthony Jerome "Tony" "Big Moe" Moore, 59, of Bloomington, went to heaven Saturday (Dec. 3, 2016) at OSF St. Joseph Medical Center, Bloomington.
His celebration of life service will be from noon to 3 p.m. Jan. 14 at The Salvation Army Corps Community Center, Bloomington. Cremation rites have been accorded. Kibler-Brady-Ruestman Memorial Home, Bloomington, is assisting the family with arrangements.
Tony was born May 22, 1957, in Bloomington, an only child to Sol Jr. and Louise Tripp Moore. He married Nelly Nash on Sept. 9, 1983, in Normal.
Surviving are his two daughters, Elizabeth (Allan) Bertram, Bloomington, and Amy (Steve) Courtland, Cropsey; three grandsons; two great-grandsons; many cousins; and his special friend and ex-wife, Nelly Moore, Bloomington.
He was preceded in death by his parents, grandparents and one grandchild.
Tony graduated from Bloomington High School in 1975, where he proudly held the position of the first black captain of the football team.
He was a car enthusiast and worked in the automotive field his entire career. Tony also had a great love for sports and was an avid Chicago Bears fan.